Nando's shut 50 restaurants in parts of the UK after it ran out of ingredients, specifically peri-peri.
It has now deployed some of its own staff to help suppliers get back on track, and hopes to reopen all its stores by the weekend.
The UK has suffered supply-chain disruptions due to a Covid-19 "pingdemic", a shortage of truck drivers, and Brexit.
KFC in the UK took some items off its menu because of shortages.
For more stories go to www.BusinessInsider.co.za.
---
Nando's closed 50 of its restaurants in some parts of the United Kingdom this week because it could not secure the ingredients needed for its popular meals.
"The UK food industry has been experiencing disruption across its supply chain in recent weeks due to staff shortages and Covid isolations, and a number of our restaurants have been impacted," the chain said in a statement.
Though it is under different ownership, Nando's in the UK is closely related to its South African originator.

The disruptions are not equally spread across the UK and the region; all stores are open in Northern Ireland, which in some ways escaped Brexit, and in Ireland, which remains part of the European Union.
Nando's said it hope to have all stores open again by Saturday, after it seconded 70 of its own staff to key suppliers.
Earlier in the week, Nando's specified that it did not have enough peri-peri to keep up with demand
Retailers and service businesses in the UK have been hard hit by what the media termed a "pingdemic" of workers who were told they should isolate after contact with a person infected with the coronavirus, by way of smartphone-app notification.
Not facing shortages has become something to brag about among UK companies – and sometimes an excuse to taunt other
Last week KFC warned UK customers that some of its usual menu items would not be available due to supply trouble.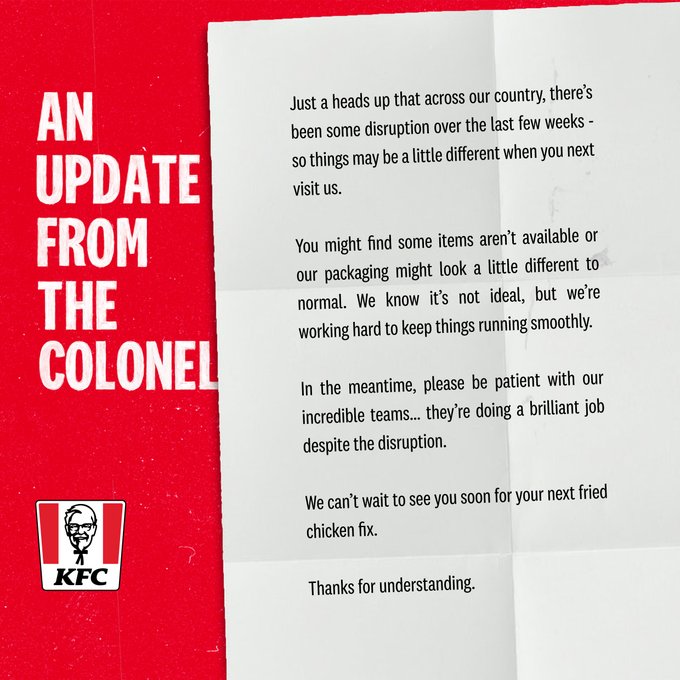 KFC also warned that its packaging "might look a little different to normal".
(Compiled by Phillip de Wet) Business insider